LARRY GREEN MUSIC BIOGRAPHY
Born in Boston, Massachusetts Larry Green began his musical journey at the age of 8. His first instrument was the clarinet. His inspiration came from Benny Goodman. To this day he still says, "'Sing, Sing, Sing' is a rocker." Listening to the radio late at night he could hear the songs of the Everly Brothers, Buddy Holly and the Crickets and his early hero Elvis Presley.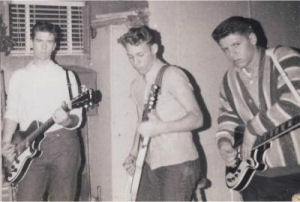 When Larry was 13 he got his first guitar and quickly learned to play the songs of the day. A year later he got an electric guitar and amplifier, a Silvertone from Sears and Roebuck. This led to a performance at his Junior High School talent show. The Assistant Principal nixed his initial choice of Ray Charles' "I Got a Woman" as too suggestive so he settled on Elvis' "Jailhouse Rock" and a friend accompanied him on drums. His performance drew sarcastic comments from his school music teacher but his female classmates were sold, as were two of Larry's best friends who immediately bought electric guitars and quickly learned to play. This led to the formation of The Centuries, Green's first band. They played the songs of Duane Eddy, The Ventures and Link Wray. The band played a few gigs and of course the school talent show. The East Coast musical career of Larry Green came to an end at age 16 when his family moved from the Boston area to San Francisco Bay area.
San Mateo, California proved to be a different musical landscape. After arriving one day before the start of high school, Larry gravitated to the local music store, Sherman Clay. There he met another musician and within a week they had started a band with musicians from another high school. Freddie King was the order of the day so Larry had to learn the songs from Let's Hide Away and Dance Away. This group evolved into a California surf band, The 409s. Trends change fast when you are young and The 409s became The Fabulous Stingrays a popular R&B Dance band. The Stingrays played all the school, church, recreation and teen club dances. They were regulars at the Redwood City Swim and Tennis Club where the dance craze "The Swim" started. Green wrote a song for the band called "The Swim," but Sly Stewart was the one who cashed in on the trend with Bobby Freeman's "Do the Swim." The Stingrays were also popular with the fraternities of Stanford and San Jose State. Otis Day and the Knights from Animal House would not be an unfair comparison.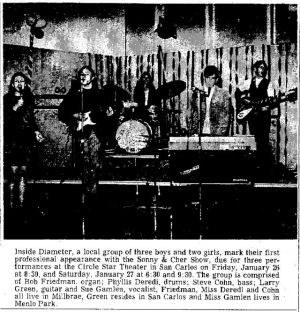 Larry and his best friend Bob Friedman became obsessed with creating original music. They wrote songs and created a new band called The Inside Diameter. This culminated in an opening slot for Sonny and Cher at the Circle Star Theater in San Carlos. Demos were recorded in San Francisco but these were unable to advance the band's objective of the elusive record deal. The band members drifted apart and went their separate ways.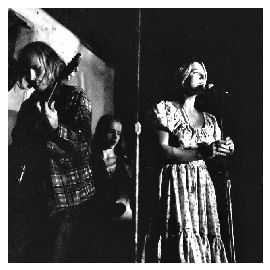 Green ended up in San Jose, California. A chance meeting at Jonah's Wail, a local San Jose State College folk club, led to Larry meeting a group of musicians and musical event organizers around SJS. Slowly a new band was born. Sunrise was a folk-rock band in the image of many of the San Francisco bands. Sunrise played at nightclubs, political rallies, dance concerts and outdoor festivals in the South Bay and Santa Cruz areas opening for Santana and The Flamin' Groovies among others. The band moved to the Santa Cruz Mountains to work on material and get ready for recording. Demos were recorded at Pacific Studios in San Mateo but the record deal again remained elusive. The musicians became focused on different objectives and the band, as many do, dissolved.
Larry moved to Los Gatos and took a job at a record store in San Jose. Soon he yearned to get back to performing and with the help of a bass playing friend, Mike Umenhoffer, started auditioning players for a new band. Fool's Gold came about by Larry connecting with some old SJS musician friends from another band of the Sunrise era. Guitarist, singer and songwriter John Eddy and drummer Billy Wilson had been with the band Throckmorton. Fool's Gold created a large trove of original material and hit the nightclub circuit in earnest. Again demos were recorded and Larry made the trek to Los Angeles in search of the record deal. Fool's Gold had some unique marketing tools with the "Fool's Gold, Feels Good" bumper sticker and the "Cosmic Credit Card" business card. The future was looking good but other factors created tensions among the members and they broke up. It was time for Larry to head south to L A.


Larry left for Los Angeles in a beat-up Chevy with his guitar and $200. He knew one person there. Two days later he had secured a $95 Hollywood apartment complete with cockroaches. Part time construction, gardening, and painting jobs helped pay the rent and allowed time to search out musical opportunities. To say that everyone in Hollywood was looking for a deal is not an understatement. Larry dove into the local scene, met people and found small recording dates and live gigs. Nothing substantial materialized but opportunities rose on the business end of music. He started managing a hard rock band called Trouble that eventually landed a record deal, but the band decided to go with different representatives after signing.
Larry and two of his musician friends decided to open a rehearsal, recording and tape duplication studio in Hollywood. Program Studios opened and was popular almost immediately. Rehearsal studios were in demand as the punk and new wave phenomena hit. Program Studios made connections with the record labels for rehearsal and tape duplication for their artists. The 8-track recording studio was booked constantly. Through the studio, Larry started working with The Razz a power-pop trio finally leaving the studio for the band. The Razz went through many changes and became Beachy and the Beachnuts a popular club circuit act. Larry had fled Hollywood for the beach.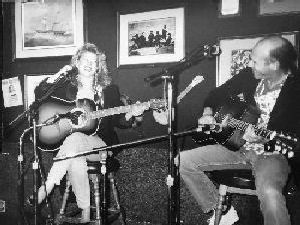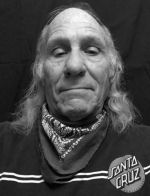 The West Los Angeles area had a few folk clubs where anyone could get up and play. Larry began writing and playing new material and performing at these open mic nights. A female friend asked to jam with him and they became a duo, Larry and Carrie. The two had some gigs at the folk clubs and busked on Venice Beach and the Promenade in Santa Monica. They still get together and jam occasionally.
Today Larry is creating music for Larry Green Music as an artist and producer. His goal is to make compelling, contemporary recordings while embracing his lifetime of musical influences. Green says, "I write and play what I hear in my head. I listen to everything and the ideas come from everywhere. There are no limits." Larry Green's music is now available on Spotify, Apple Music, Amazon Music, YouTube and all the major streaming services worldwide! So there you have it. Enjoy!